I was very fortunate in 2017 to meet the owners of the not-yet-open Ocean View Brew Works in Albany, CA and discuss their need of a logo — over a couple of delicious ales from the brand-new brewery! The result is this colorful, classic logo, showing the only view of the Pacific Ocean possible from Albany — out the Golden Gate.
To bring a little more of the ocean closer to our view, I asked my friend Humphrey the Humpback Whale to come back to the bay with something good to drink and here he is with a barrel of Ocean View ale! There are also six famous historic buildings visible here, can you find them all?
I had a galaxy of fun creating this can label for a collaboration brew by Ocean View Brew Works and Federation Brewing in Oakland! Federation has a science fiction theme, so I combined that with Ocean View's neighboring Albany Hill and a few space whales to represent both breweries. I even got to suggest the name, as "Martian City" is what my brother and I used to call Oakland's Grove-Shafter Interchange when we were kids, and those swooping freeway ramps connect Albany to downtown Oakland as much as the bay fog. I couldn't draw any of the Martian cars, they were going too fast— but my Martian friend is hoppy to share all their beers with us!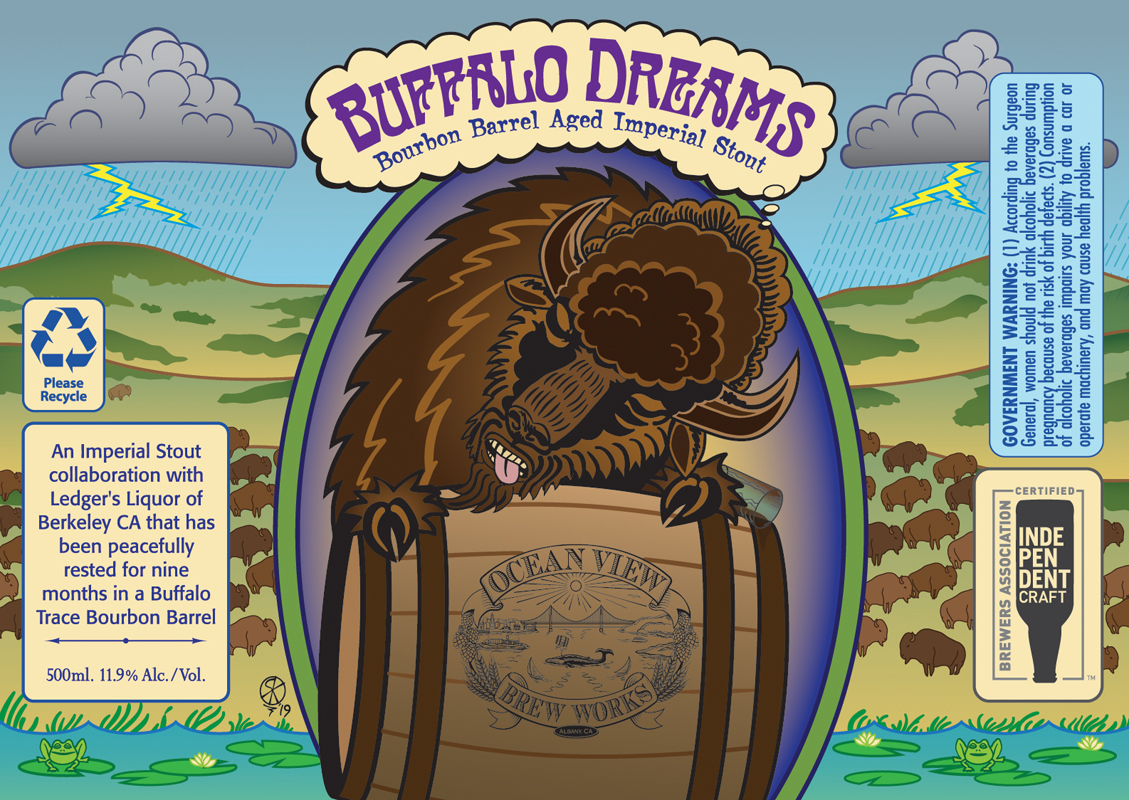 Here's a bottle label for a delicious bourbon-barrel aged imperial stout, using Buffalo Trace whiskey barrels. I once got chased by a buffalo, it was a most exhilarating experience! This beer, on the other had, is a very relaxing experience, as you can see from our snoozing buffalo friend.
This 32-oz. "Crowler" can label was a lot of fun to draw, as it afforded me a large canvas for sea and sky! There were many different versions of this label over time, with small differences here and there. Sometimes the approaching vessel was a pirate ship, or the purple sea serpent would be replaced with a mermaid, or the whale would have a beach ball on his spout instead of a barrel. Now of course, they are all highly sought-after collectibles, and worth millions of dollars each! Perhaps.
The Slayzzonn special strong ale was a monster of a beer made for Halloween 2019, and special black t-shirts were made with this post-apocalyptic version of the OV logo. This version of the Bay Area looks like it's seen better days, hopefully no one got this trashed by drinking too much Slayzzonn!